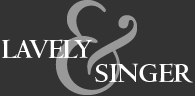 L

AVELY &

S

INGER
P
ROFESSIONAL
C
ORPORATION
2049 C
ENTURY
P
ARK
E
AST,
S
UITE
2400
L
OS
A
NGELES,
C
ALIFORNIA
90067-2906
T
ELEPHONE:
(310) 556-3501
T
ELECOPIER:
(310) 556-3615

ATTORNEYS
MEMBERS
JOHN H. LAVELY, JR.
MARTIN D. SINGER
BRIAN G. WOLF
LYNDA B. GOLDMAN
PAUL N. SORRELL
EVAN N. SPIEGEL
MICHAEL E. WEINSTEN
TODD S. EAGAN

A

SSOCIATES
OF COUNSEL
KEVIN JAMES
OFFICE ADMINISTRATOR
BILLING/ACCOUNTING DEPARTMENT
** Please contact us VIA TELEPHONE (do NOT send e-mail) if you are interested in potential legal representation specifically relating to the talent-side of entertainment litigation -- the firm does not provide transactional legal services, nor do we accept or shop unsolicited scripts and/or ideas.
If you desire to correspond or contact anyone at the firm via e-mail, please note that despite appropriate electronic precautions, no e-mail or other form of electronic transmission of information can be completely protected against disclosure to someone other than your intended recipient. Lavely & Singer makes no representation that e-mail sent to the firm will be entirely private or even received by the intended recipient. In any event, please do not send any information that you deem to be confidential to the firm unless and until you have established an attorney-client relationship with the firm. No such relationship is established until both you and the firm agree to establish one, and neither transmission of information to the firm, nor the firm's receipt of such information, constitutes an agreement to establish an attorney-client relationship.